News & Events
December 2015
David is Welsh Masters Champion!
Henley Squash club member David Wright, ran out the winner at the Welsh Open Squash Masters Over 60s at the Welsh National Sports Centre on December 4th-6th.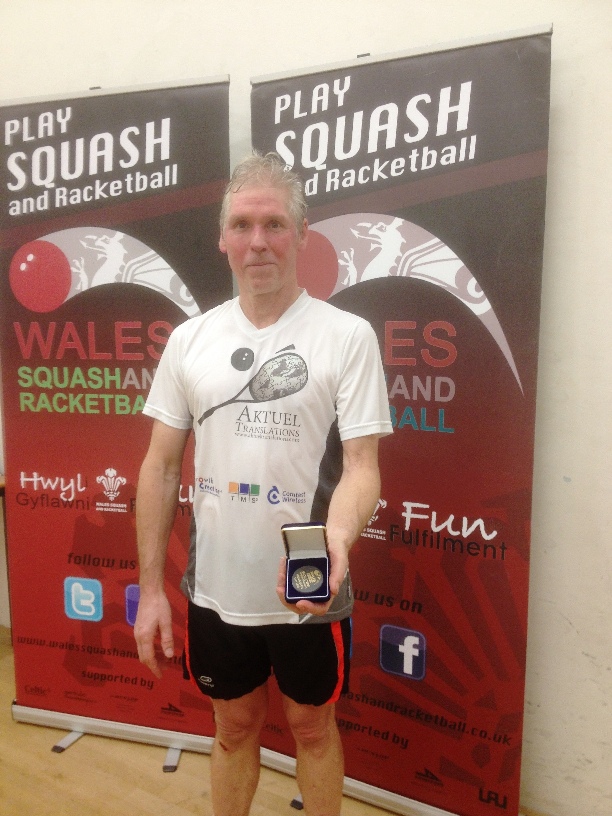 David had a very close match in the semi-final against Paul Mills of Wales eventually winning 9/6 in the fifth.
The final was a little more straightforward, after a slow start he won in 4 games 3/9, 9/5, 9/3 9/3 against Alan James.
David plays team squash for Henley in the Oxfordshire League and in the Berkshire Veterans League.
---
December 2015
Christmas 2015 Opening Times
There are plenty of opportunities for Squash League players to finish their December matches over the Christmas period! And for all members, why not burn off that Christmas Day excess before the New Year celebrations start! Here are the Leisure Centre Opening Times (normal times for any days not shown below):
Monday 21st : 6.30 – 22.00
Tuesday 22nd : 6.30 – 22.00
Wednesday 23rd : 6.30 – 22.00
Thursday 24th : 7.00 – 16.00
Friday 25th : CLOSED
Saturday 26th : CLOSED
Sunday 27th : 7.00 – 19.00
Monday 28th : 6.30 – 20.00
Tuesday 29th : 6.30 – 20.00
Wednesday 30th : 6.30 – 20.00
Thursday 31st : 7.00 – 16.00
Friday 1st : CLOSED
Saturday 2nd : 8.00 – 19.00
Sunday 3rd : 8.00 – 19.00
Also, remember that team squash has finished for the season, so Tuesday and Thursday evenings are available for normal bookings for the rest of December and until the new season starts in early January.
---
December 2015
3rd and 4th Teams are Promoted
The Oxfordshire Winter1 season closed with both the 3rd and 4th teams winning promotion. The 3rds will move up to Division 5 after Christmas and the 4ths go up to Division 6.
The 2nd team fought a successful relegation battle and stay in Division 2.
The 1st team flirted with relegation at one point in the season, but finished solidly mid-table in Division 1.
See the full tables here…
---
August 2015
Jill is European Champion!
Henley Squash Club's Jill Campion won the women's over 55 category of the European Masters Squash Championship, held in Malmo, Sweden, 27th-30th August. After a 3-0 win in the semi-finals against experienced Welsh international Sian Johnson, Jill faced title-holder Julie Field from Yorkshire.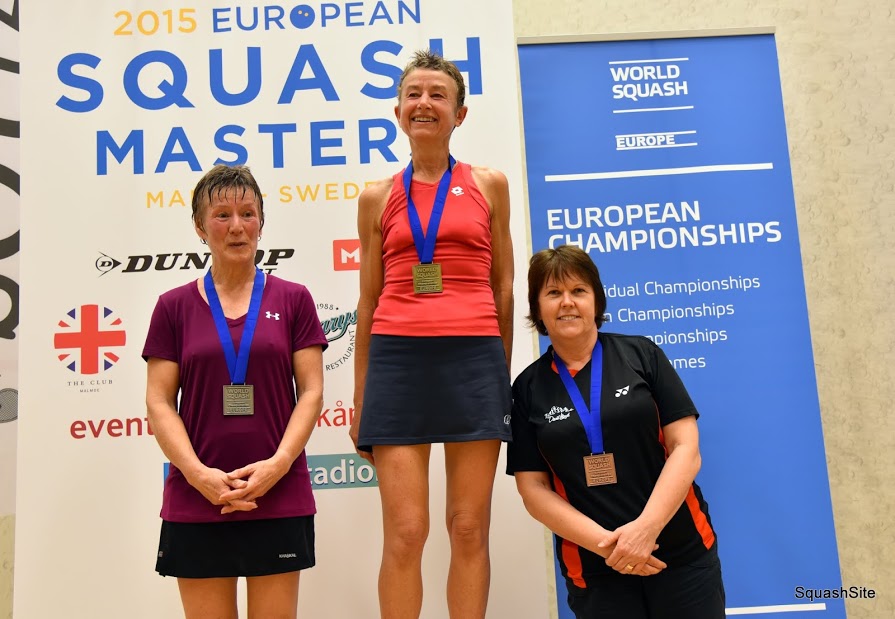 "The first game was tough" said Jill, "but I was playing well, I was in control, I was playing to the ball, I felt good. But in the second, her lob serve was superb, and I just couldn't take the game away from her, although I had my chances. Third, I just couldn't step up to the mark, she did everything superbly, I just couldn't prevent her from playing her game.
"So I changed tactic for the 4th, I tried and attacked everything, crosscourting everything very hard. In the last game, I really focused on the width, again trying to push her to the back, and I managed to control my movement better. Then I had two match balls, I lost one, she won one, then she tinned. At 10/10, I told myself, come on, you have two serves, you are going to do this. And I did!
"It's only the second time I have beaten Julie in the 15 years I've been playing against her, the first win being the final of the over 55s British National Masters in Manchester in February. Julie is famous for her lob serves, her length, her crosscourt volleys! She has won three World titles, six British National titles and three British Open titles at Masters level. She exudes that confidence that comes from having won pretty much everything there is to win."
This makes it three in a row for Jill this year. As well has now being European Masters Champion, she is also women over 55s British Open and British Closed Masters Champion.
Another story about Jill here…
---
November 2015
County Success for Henley Squash Juniors
Players from the Henley Junior Squash Club featured prominently in the recent Berkshire and Oxfordshire County Championships, gaining one county title and three second places and three third places.
The Berkshire County Championship was held at the Windsor Squash Club and four Henley juniors competed; James Dunning, Miles Edwards, Beth Ireland and Jake Ireland.
See full report here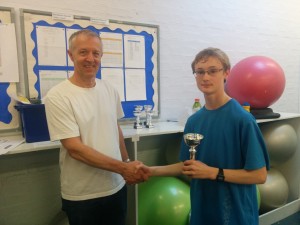 ---
October 2015
Handicap Tournament 2015
This year's Handicap Tournament was run on Saturday 17th October.
Jonathan Betts was the eventual winner – pictured here receiving his prize from squash legend Ross Norman.
Full report coming soon.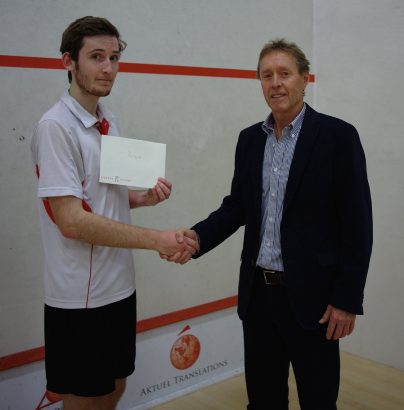 Prizes were kindly donated by club sponsor Aktuel Translations. 'As ever, we're keen to support Henley sports clubs wherever we can and Henley Squash Club is no exception. Ross Norman is a great ambassador for the game and we are proud to have him come along. For me, he embodies the idea of never giving up – having met and lost to Jahangir Khan on 30 occasions, he dug deep and won the world title, when it counted, on their 31st meeting at the World Championships final in 1986, ' says Aktuel Translations founder, Robin Bennett.
---
August 2015
New Team Shirts
Winters Squash starts in September with all teams wearing the new team T-shirts!
Our two main sponsors, Aktuel Translations and Invesco Perpetual, are shown prominently on the front and back of the shirts – with our other sponsors, Growth Creation, TMS2 and Comtest Wireless also on display.
Apologies for the model in the pictures – he is not as young as he used to be!
All team players will receive one T-shirt free (qualification: must have played for the teams 3 times) with additional shirts available for £30. Non-team members of the club are more than welcome to purchase shirts as well – place your orders with Duncan Nightingale. Sizes available: XL, L, M, S.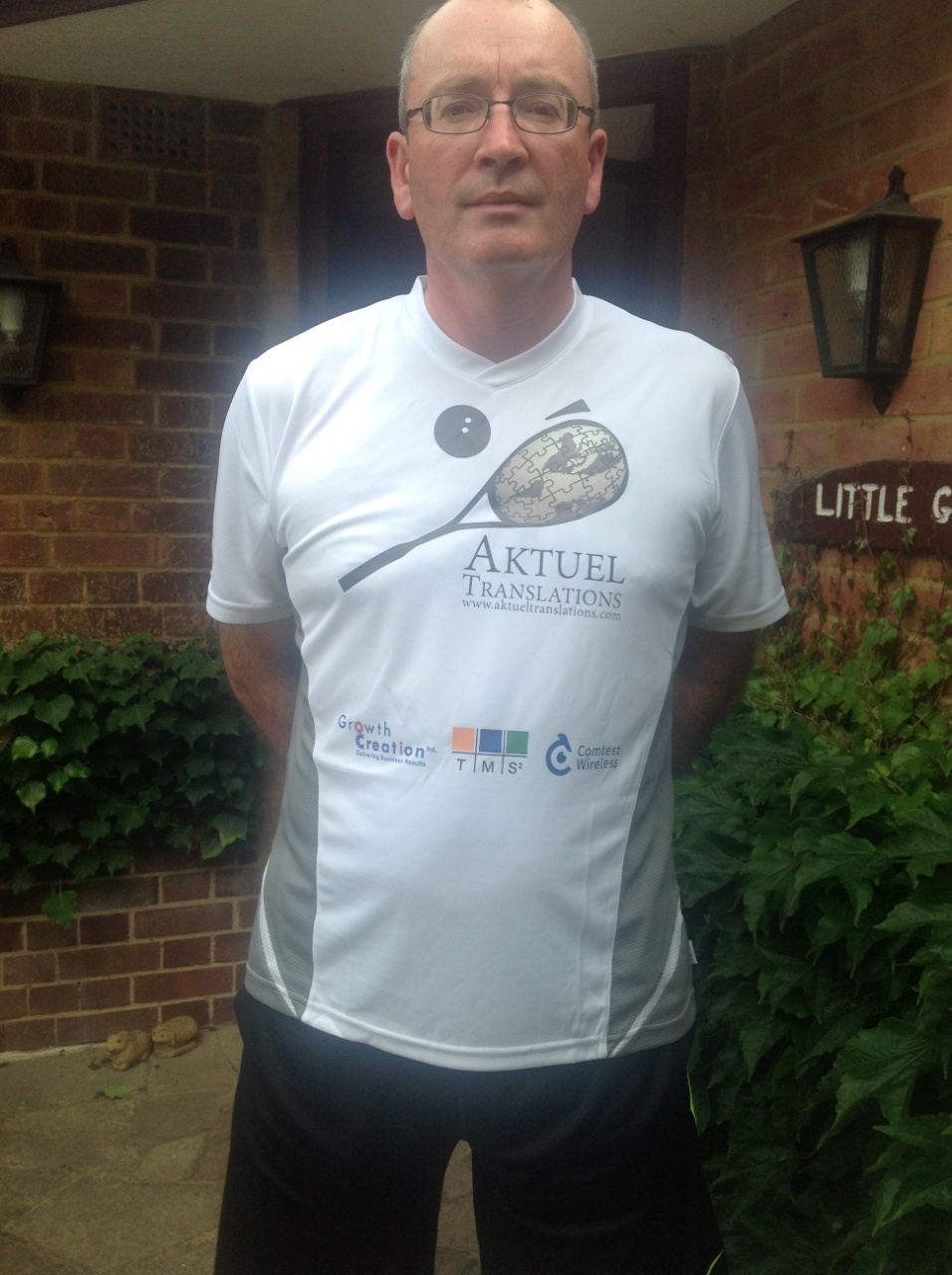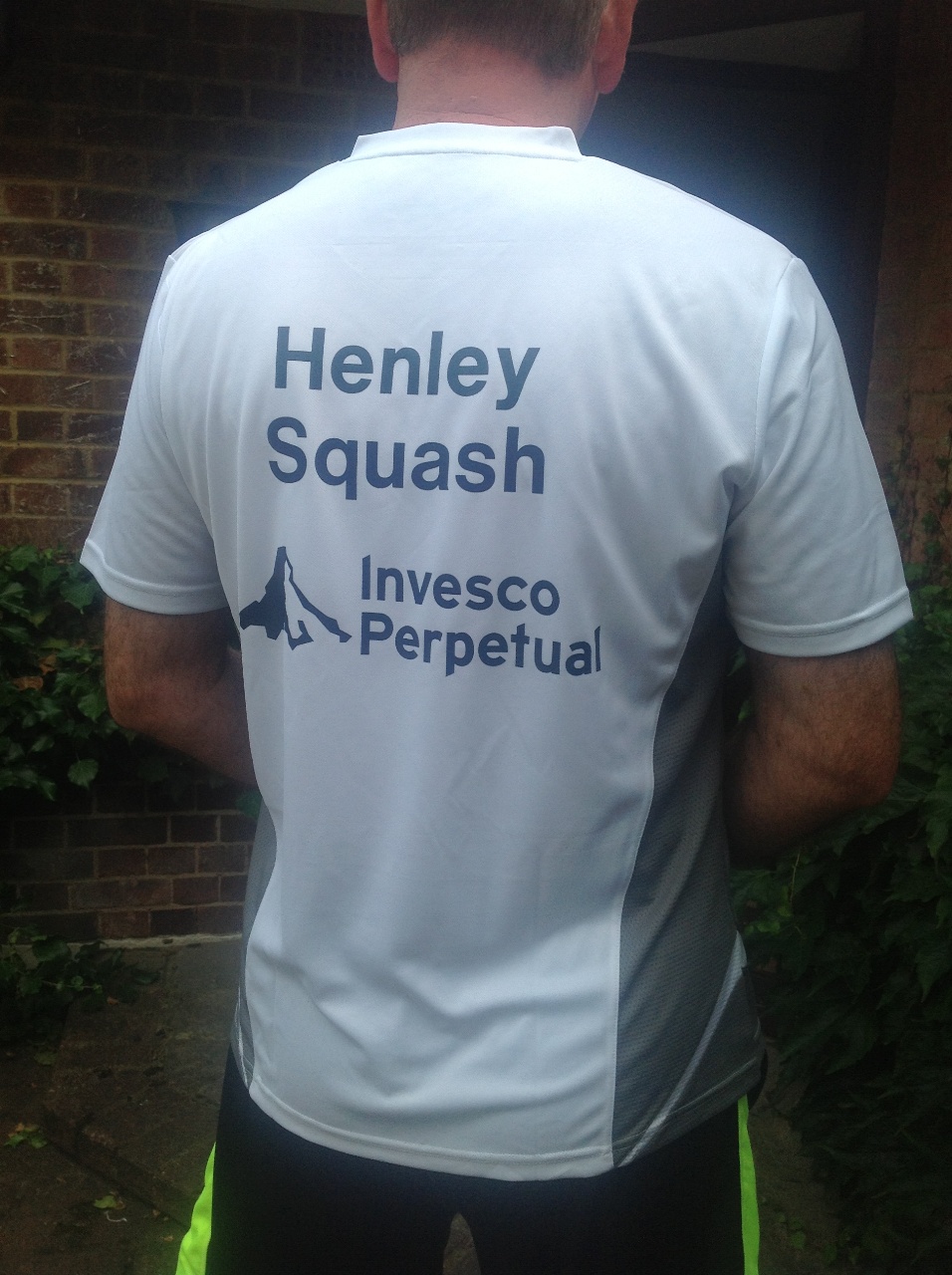 ---
29th June 2015
Henley Juniors Excel
This weekend Thame Squash Club hosted a four way tournament between the local Oxfordshire Junior Squash teams of Abingdon, Henley, Oxford and Thame. Each team had 5 players and the Henley team was represented by (from left to right in the photo) Tom Lynskey, Luca Babb, Miles Edwards, Art Lawton and Jack Lynskey. The Invesco Perpetual sponsored team started the tournament strongly with a 4-1 victory over Thame, only losing 4 games. In the second match Henley again won 4-1 over Abingdon and managed to drop only 2 games. This left an exciting finale against Oxford and the Henley boys played exceptionally well as a team and ran out winners 5-0 without dropping a single game. At the end of the tournament Henley Juniors were crowned champions ahead of the host team as runners up.
The event was extremely well organised and run by Will John, a former professional world ranking squash player, at the Racquets Fitness Centre and we hope to organise further fixtures with our local rivals again soon. Henley Junior Squash Club is based at Henley Leisure Centre on Gillotts Lane and welcomes all new members with a range of activities and events throughout the year.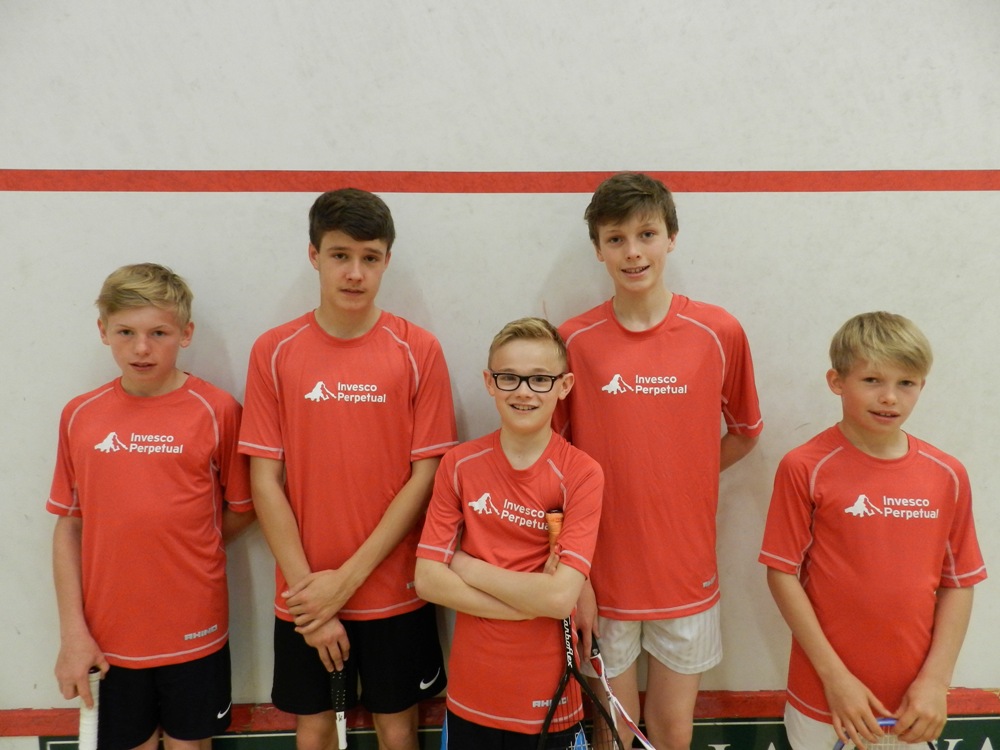 ---
April 8th 2015
FREE Squash taster sessions
The club is hosting a series of taster sessions on Wednesday 8th April at the Henley Leisure Centre throughout the day and evening – in order to provide potential new junior and adult players with the opportunity to try the game, and for existing 'beginners' to develop new skills.
This will be a fun environment for those with no or limited squash experience. Separate sessions will be held for adults and juniors. Expert tuition will be provided throughout the day by various qualified coaches including Ross Gore, who is also an Oxfordshire County Coach.
Due to the generous support from Invesco Perpetual's Community Support programme, the taster sessions will be FREE! Squash rackets can be provided by the club. For further details and to reserve a place, please contact Ross (titansquash@gmail.com, 07966 105754).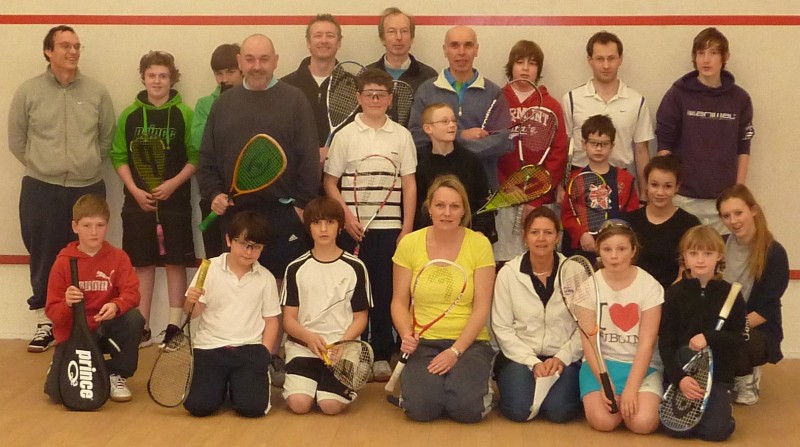 Members of the Henley Squash Club at an Adults and Juniors Fun Tournament
---
March 2015
Sponsor for Club Championship
Henley Squash Club's annual Club Championship will be played over several months in 'F.A. Cup' –style!
Building on an initiative from the last competition, the early rounds will feature beginners and players from the lower divisions of the Club League. Those that win through will face stronger players who join in subsequent rounds. The draw for each round will be made after the previous one is complete, culminating in a final near the end of the year.
"Although the final rounds should still be between the best players in the club, this format will give plenty of scope for giant-killing upsets" said tournament organiser and 1st Team Captain, Simon Street.
The competition will be known as the 'Aktuel Championship Cup' with new club co-sponsor, Aktuel Translations, providing financial backing.
"We are proud and pleased to be supporting one of Henley's most vibrant sporting clubs – not just with the Aktuel Championship Cup, but also a special charity event later in the year" said Aktuel founder, Robin Bennett.
Henley Squash Club has strengthened its sponsorship position for 2015. As well as Aktuel and long-term sponsor Invesco Perpetual, a number of other Henley-based companies have provide further sponsorship: Comtest Wireless, Growth Creation, and TMS2.
"The new club team strips will look pretty impressive with all the new logos" said Club Chairman, Duncan Nightingale. "We will now be supporting two teams in the Berkshire League, four teams in the Oxfordshire League – and with plans for a Ladies team as well, they will be getting plenty of exposure".
The fund-raising initiative for 2015 has not yet closed, so any more Henley-based companies who wish to be part of the Henley Squash Club 'story' should contact Duncan at www.henleysquash.co.uk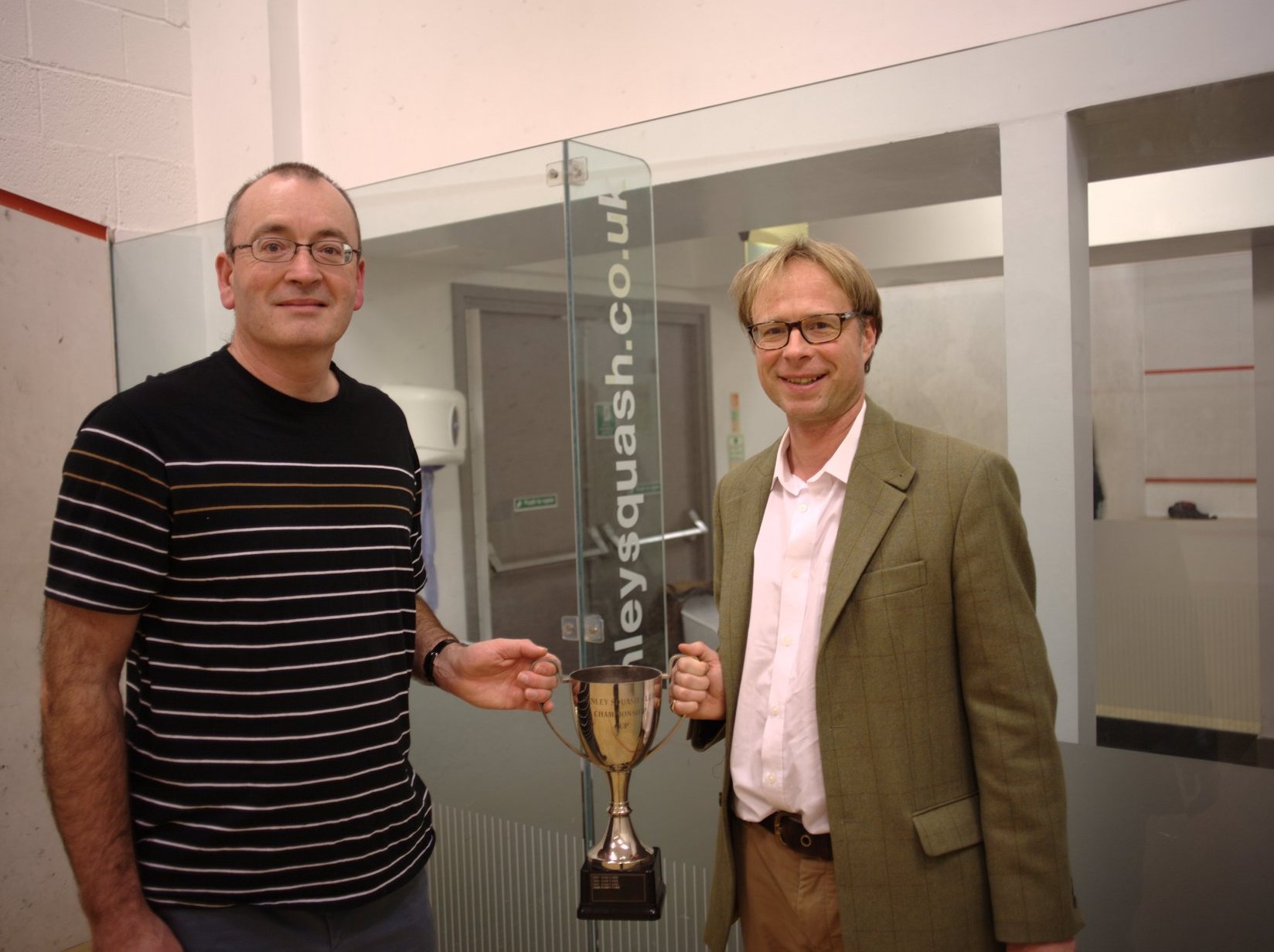 Club Chairman Duncan Nightingale and Aktuel founder Robin Bennett with the Aktuel Championship Cup
---
« Previous Page
—
Next Page »