News & Events
September 2023
Jill wins European Masters
Jill Campion, who lives in Bix and plays squash at the Henley Squash Club based in Gillotts Leisure Centre, won her age group at the European Masters Squash Championship held in Hamburg last week. This is the second time that Jill has won her age group, having won the title in Malmo in 2015.
She beat long-standing rival Lynne Davies, from Wales 11-3, 11-7, 11-7 in the final of the over 65s category, both finalists having won all their initial round robin matches. Speaking after the final Jill said, "Lynne is always a tough opponent. She has an unorthodox game which is very effective as it disrupts the normal flow of the game and prevents opponents from attacking. I was lucky to come in to the tournament on good form, and I was able to build my confidence further in the round robin match, which I won very comfortably. The final was different. I dominated the first game but then Lynne got into her stride and I had to fight hard to regain control in both the second and third games. I am delighted to have won this major title again and to have been part of what is a fantastic celebration of squash for all ages."
Over 600 people from countries around European competed in the European Masters Championships, which are held every two years, with age groups starting at over 35 right through to over 80.
Jill Campion has won major squash titles at over 50, over 55 and over 60 age groups. This is her first over 65s win.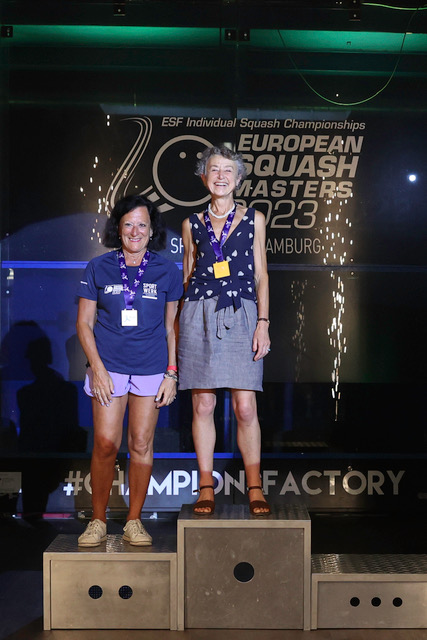 ---
April 2022
Another Big Win for Jill
Jill Campion, who lives in Bix and plays squash at Henley Squash Club, which is based at Gillots Leisure Centre, last weekend won the British Open over 60s squash tournament, the third consecutive time she has won this tournament in this age group. This win comes shortly after her win in the National Championships in February and in last year's British Open, which means that she has won her age group in all the major tournaments this season.
The British Open is one of the most prestigious tournaments in international squash. The masters event took place in the the Allam Sports Centre in Hull, running alongside the main event in which the top players in the world compete. Speaking after her victory Campion said; "This has been a very good season for me. Having won the two other major tournaments I was very keen to make a clean sweep of this season's majors. It is great to be playing in the same venue as the pros, and I find watching the best players in the world truly inspiring – not that I could be or ever have been close to their standard though!"
Campion had a bye in to the semi-final in which, with her typical style of focused and accurate squash, she was too strong and quick for Iris Hoefling of Germany, who she beat 3-0. IN the final she faced Lesley Sturgess, who she had beaten in one British Open and two British National finals, each time 3-2. This one proved to be another tough match. "Lesley is a highly experienced player who reads the game well and has excellent racket skills. As has recently been the case in our matches, Lesley won the first game, keeping the rallies short with tight, accurate shots. I started getting in to my stride in the second and managed to level the match at one game all. Lesley slowed the game down and went ahead in the third, but I clawed my way back, finally losing it closely, 10/12. I could see that this long game had taken its toll physically on Lesley and so I played a game that combined fast-paced drives with slower deceptive shorts to win the last two games. I was thrilled, and very relieved, to secure another British Open age group title, my fifth in all."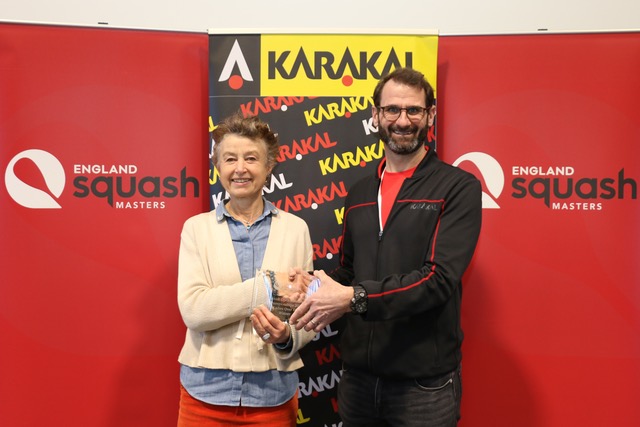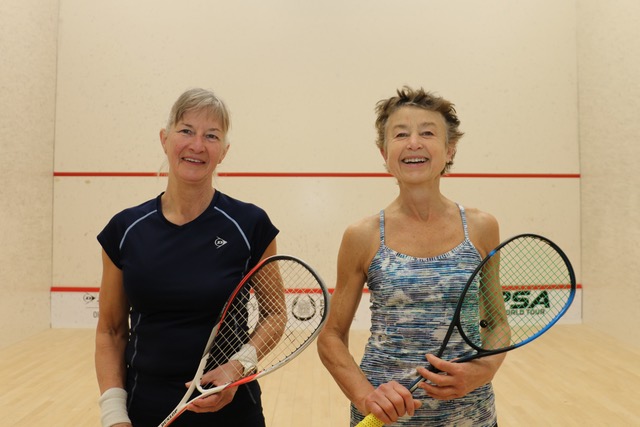 ---
October 2021
Annual General Meeting
The first AGM since the end of COVID lock-down was held on 21st October 2021. Thanks were given to chairman, David Wright, for his years in charge and for navigating us through the lock-down period. David is fully retiring from all squash and stood down as chairman. The following officers were appointed for the next period:
Chairman – Roger Booker
Vice-Chairman – Steve Dance
Membership Secretary and League Administrator – Duncan Nightingale
Treasurer – Andy Ball
Website technical support – Roger Betts
1st Team Captain – Simon Street
2nd Team Captain and Juniors co-ordinator – Paul Ski
Club Coach – Adam Edge
Full minutes of the meeting are available from the Membership Secretary upon request. Help in running the club is always welcome. If you think you can help, please contact one of the above to discuss.
---
September 2021
Henley Squash Club emerges from COVID lock-down
After a number of abortive attempts, and with the co-operation of Henley Leisure Centre, the club is now up and running again:
Internal Squash League (aka 'boxes')
Squash teams competing against other clubs in the Oxfordshire League
Club afternoon every Saturday from 3.20pm to 4.40pm, with associated WhatsApp group to facilitate organisation and attendance
FREE Juniors program of coaching and activities
Welcome back everyone!
---
February 2018
Jill runner-up in O55 championship
Jill Campion, who lives in Bix and plays for the Henley Squash Club, fulfilled her seeding to finish runner-up in the ladies over 55 National Squash Championships, held in Manchester recently.
Jill, a three time champion in this age group and now in her last season in this category and seeded two in this tournament, has a tough quarter-final against the spirited Sarah Howlett in a tense three game match. She came out the blocks firing on all cylinders but Howlett battled back in a tense final game. However, the reigning champion had enough quality and experience to win in three games, 15-10, 15-11, 15-12.
In contrast, in the semi-final Jill had her work cut out against Hilary Kenyon, a strong, experienced player who represents England in the over 50s age group and has recently joined the over 55s. Jill managed to clinch the first game thanks to good shot choice, but Kenyon came back fighting in the second game, which she dominated, levelling the score at one game all. Jill increased the pace in the third and fourth games, running down Kenyon's shots, and her growing confidence was reflected in the quality of her shots. She went on to win 12-15, 15-7, 8-15. 8-15.
In the final she faced 5-times master winner and number one seed Mandy Akin, playing her first national championships in the over 55 category. Jill started well, using her shot-making skills to good effect, and edged ahead in the first game, but Akin soon found her stride and came out strongly, taking the first game 15-9. She continued to put Jill under pressure in the second game, which Jill lost 15-10 and there was no respite in the third, which Akin won 15-6.
"Mandy is a very strong player, a youngster in this age group, and still one of the best over 50 players in the UK, let alone over 55! I had played very well in my semi-final match against Hilary and I hoped to play as well against Mandy. I had my game plan, but she is so strong and fast, and kept me under pressure the whole time. I was pleased to get to the final in my last national championships in this age group."
Jill's success at the National Championships confirmed her selection to play number 2 for England over 55s in the Home internationals being held in Cardiff at the end of April. This is her 17th England cap at masters level.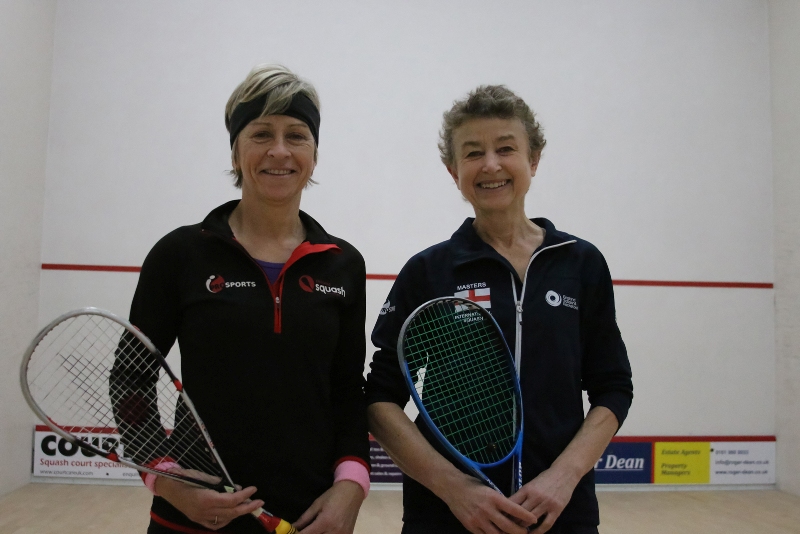 Jill (right) and Mandy Akin
---
October 2017
David takes over as Club Chairman
David Wright has agreed to take on the mantle of Club Chairman. He formally took charge of Henley Squash Club at an Extraordinary General meeting on Thursday 5th October where he was proposed by previous Chair, Duncan Nightingale, and seconded by Richard Little, with no other candidates standing.
David is a mainstay of the club, playing in the internal League at the Division 1/2 level, and competing for the Henley teams in the Oxfordshire and Berkshire Leagues in the 2nd team. He was also a recent winner of the Welsh Masters. More details on that story are here…
Duncan will continue to organise the internal League and act as Membership Secretary.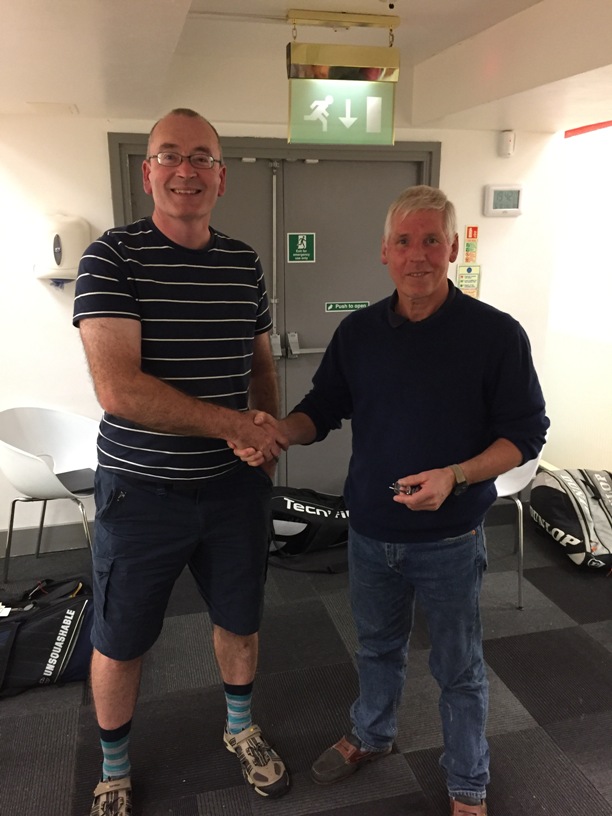 Duncan (left) 'passes the baton' to new club Chairman, David Wright
---
April 2017
Winter 2016-17 Teams Report
The Winter season for Team Squash finished with mixed results for the various Henley Teams.
In the Oxfordshire League, Henley 1sts finished 3rd in the top division. The 2nd team finished bottom of division 2. Henley 3rds finished in a very creditable 2nd place in division 5. The 4th team finished a solid 4th place in division 7.
The full, final League Tables can be seen here.
Individual Player Statistics for every team player can be seen here.
In the Berkshire (Vets) League, Henley 1sts finished mid table in the top division, while the Henley 2nds finished next to bottom in division 3.
The full, final League Tables can be seen here.
Individual Player Statistics for every team player can be seen here.
Summer League Team Squash kicks off in May. Henley will be running 3 teams in the Oxfordshire League. If you are interested in participating, sign-up now with the team organisers: Simon Street (1st team) & Paul Ireland (2nd & 3rd team).
The Vets teams have a break now until next Winter.
---
February 2017
Jill retains National Title!
Jill Campion, who lives in Bix and is a member of Henley Squash Club, retained her British Over 55 national squash title, coming back from 2 games to 0 down to win 3-2. This the third year in a row that Jill has won the women's Over 55 category, the first time anyone has won this category three years in succession.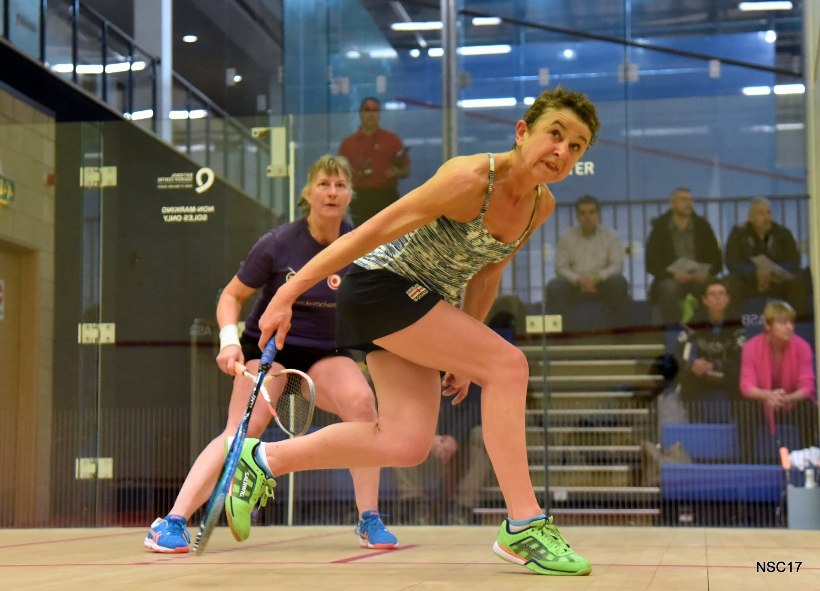 "This year was really tough and I had to fight hard in each match" said Jill. "The quarter final against Kim Johnson, a newcomer in this age group, was fast-paced and physically testing. Although I won 3-0, the games were close, and I was pleased to get ahead at the right time.
"My semi-final was against Sarah Howlett from Cambridgeshire. I knew I would have to rethink my game when I quickly found myself 1-0 down, with Sarah keeping the rallies short with excellent winning volleys and pin-point accurate drop shot. Luckily I found my range in the second game and managed to keep Sarah at the back of the court with high lobs, setting me up to win points at the front. Having won the second game, I maintained this tactic and gradually gained confidence, winning the match 3-1. It was a hugely tactical match – less physical than my first match but mentally more difficult.
"Lesley Sturgess beat reigning Over 55s World Champion Karen Hume in the other semi-final. I last played Lesley in the the final of the British Open Over 55 last June. Then I quickly lost the first two games and managed to stage a comeback, winning 3-2. This time I was determined to get ahead quickly. However, things didn't go according to plan. The first game was anyone's. But Lesley was clearly getting into her stride with excellent volleys and perfect lengths, putting me under pressure and she took the first game. I was struggling to work out how to counter this and quickly lost the second. 2-0 down, clearly there was no margin for error. I started putting a lot more height on the ball, preventing Lesley from attacking it and won the crucial third game and then the fourth. I had managed to turn the tables – Lesley was feeling the pressure and her shots were becoming less accurate, which allowed me to win the fifth game and the match. I am absolutely thrilled, as to be honest, at 2-0 down I thought I was going to lose!"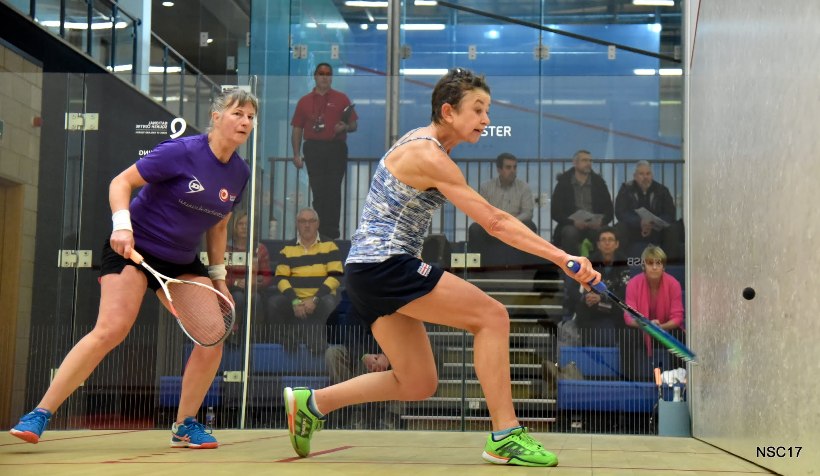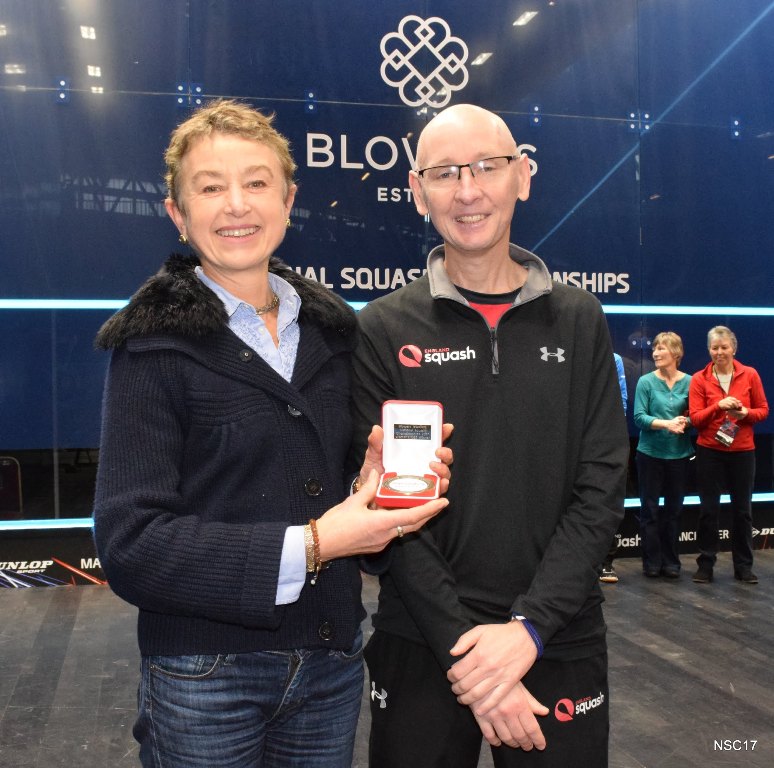 ---
April 2016
Matt is Club Champ again!
Matt Marshall won an exciting final to the Aktuel Translations Cup, thus retaining his crown as Henley Squash Club champion.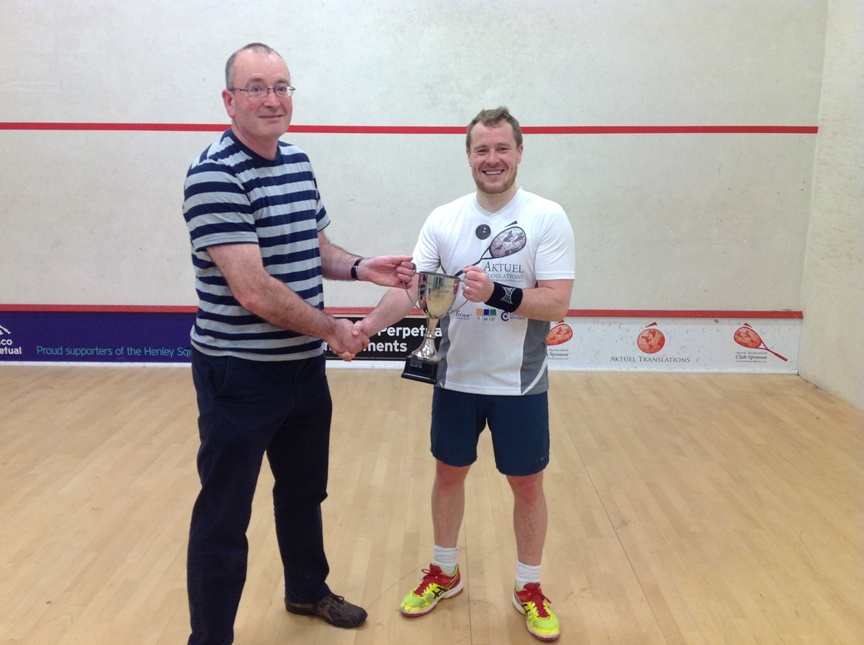 Matt Marshall receives the Aktuel Translations Cup from Club chairman, Duncan Nightingale
In the semi-finals, which took place the evening before Finals Day, Marshall had won a very tight match against Matt Baynes 3-2. Baynes looked to have the upper hand after coming back from 2-0 down to level the match at 2-2. But Marshall took the deciding game to win through.
In the other semi-final, Andy Lewis faced 1st team captain, and tournament organiser, Simon Street. Lewis had been playing a lot of squash in the preceding days and said he was feeling very sharp. And so it proved to be with the hard hitting Lewis winning out against Street's accuracy and range of shots.
In the final, Marshall was, on paper, the stronger player – but Lewis matched him point-for-point in the first game, before Marshall won a very tight game. The next two games were a little easier for Marshall and he ran out 3-0 winner.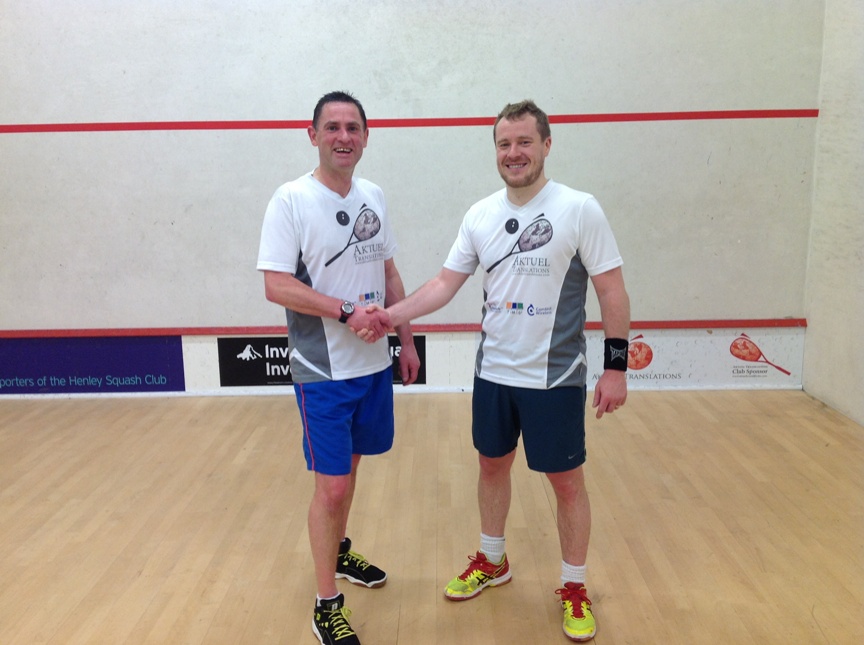 Championship Finalists: Andy Lewis and Matt Marshall
The final of the Plate competition, for players that were knocked out in the early rounds of the Championship, was played immediately before the Championship final.
One of the rising stars of Henley Squash Club, 15-year-old Jake Ireland, was up against Junior Club Chairman, Richard Little, who was conceding a few decades in age to his young opponent! But it was, if anything, Richard who charged around the court like a youngster – never giving up on a lost cause and bouncing off the walls in his determination to reach every ball. The match swung one way and then the other before reaching 2-2 and going to a deciding game. That also proved very close, but in the end Jake's youth and classy shots just won out against Richard's never-say-die attitude. All of us who have ever beaten Jake as he was rising through the ranks of Henley Squash Club should cherish the memory – because we won't ever do so again!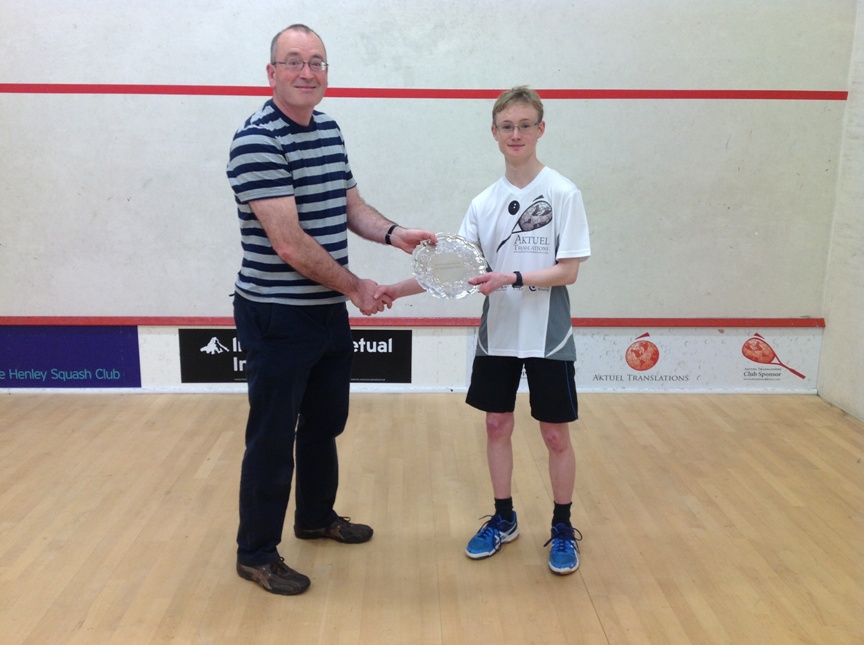 Jake Ireland receives the Plate from Club chairman, Duncan Nightingale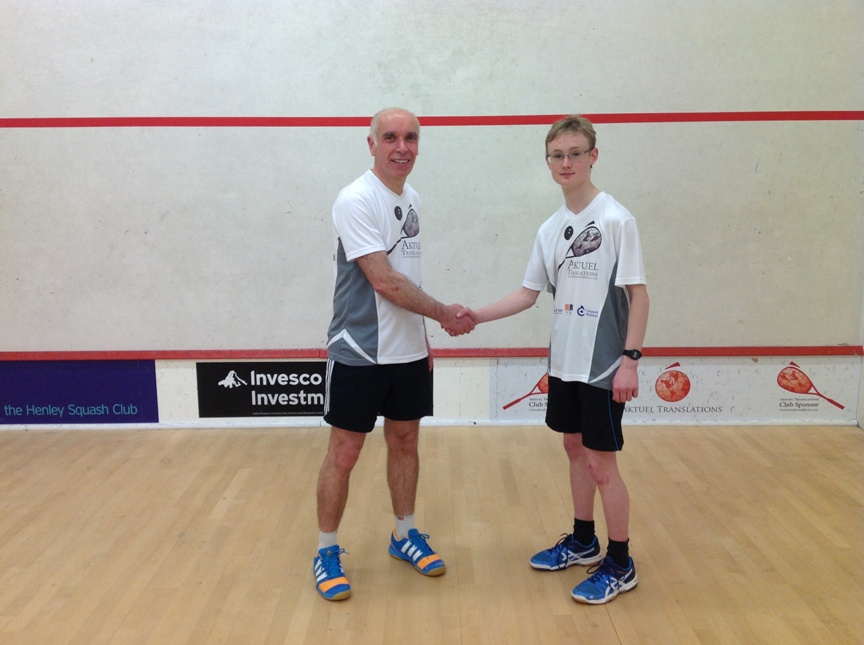 Plate Finalists: Richard Little and Jake Ireland
Many thanks to Simon Street for organising and running the tournament. The whole draw and all the results can be seen here…
---
February 2016
Jill is National Champ again!
Jill Campion, who lives in Bix and plays squash at Henley Squash Club, has won the national over 55s womens' squash championship for the second year running.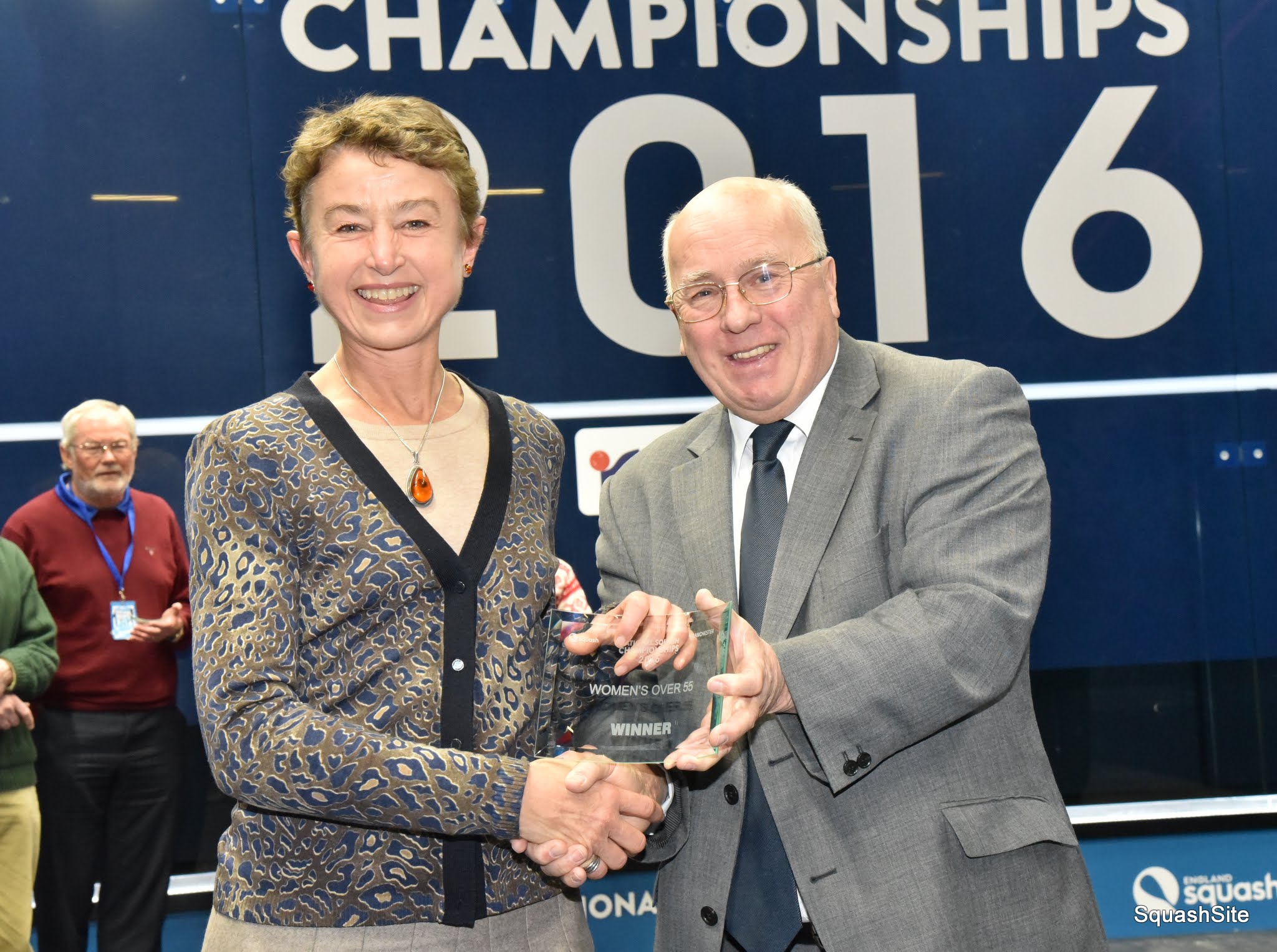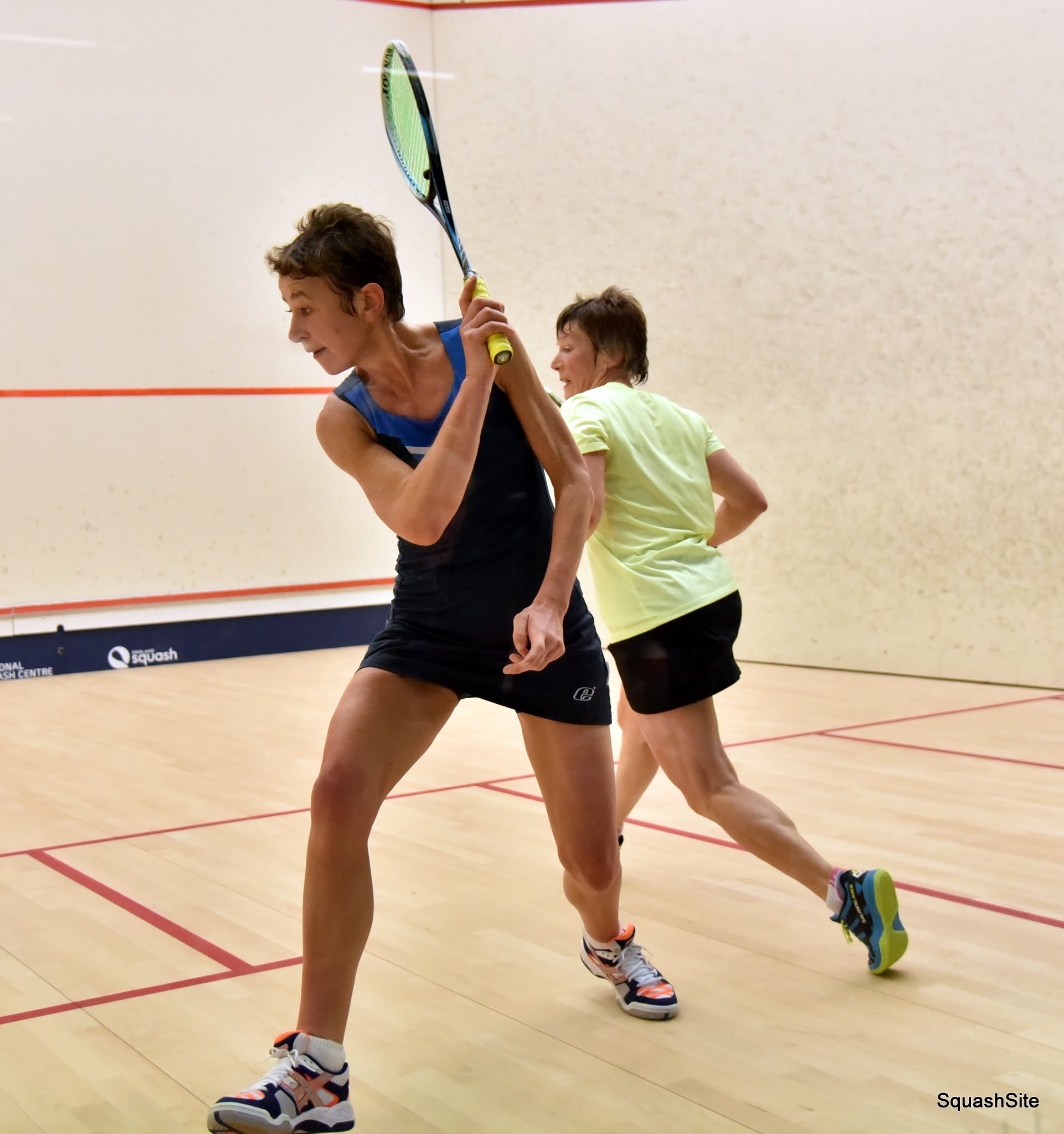 Jill faced tough opposition, not least from experienced Welsh international Lynne Davies in the quarter finals, who she beat 3-1, after a very nervous start.
Next she played Karen Hume, from Kent. "I have played Karen many times and know she is a fighter. I got off to a good start and won the first game comfortably. Karen then settled and found her length, making the next two games far tougher. I had to fight for every point and was glad to win 3-0″.
"I then faced Julie Field in the final – a rerun of last year's national final, and of the final of the European Masters in Sweden last August. Having won both those matches gave me self-belief and confidence. However, I know Julie is a canny player and excellent shot player and I would need to be playing my best. The first game was neck and neck and to be honest I felt she had the edge. At six all I decided to up the pace, which paid off and I scraped through to win that game 10-8. The second game was similarly equal, with the difference that I felt I was managing to dominate more and I won it 9-7. Leading 2-0 gave me the confidence to play better winning shots in the third, reflected in the 9-3 score. I am absolutely thrilled to win my second national title – it is a very special feeling."
Jill is currently also European over55s squash masters champion and British Open champion. She will be defending her British Open title in June.
Another story about Jill here…
---
Next Page »