Teams
The club fields a number of squash teams in the Oxfordshire League, where we play other clubs on a weekly basis throughout the year.
We also field veterans teams (45 and over) in the Berkshire League. These matches are played every two weeks in the Winter.
We are always looking to strengthen our teams, so if you haven't tried team squash before, and fancy combining competitive squash with a great social atmosphere, we want to hear from you!
Places in the teams are allocated each week based on our Order of Merit – effectively a ladder. Positions on the ladder may be changed by mutual consent, or by challenge matches.
Matches typically start at 7.20pm, take about two hours to complete, and are followed by a meal provided by the host club – either on-site or at a nearby pub or restaurant (for home games, it is the Three Horseshoes pub).
There is a match fee for each player (£10 away / £15 home). This covers the court fees, the meal and two bar drinks.
If you wish to be considered for the teams, contact the relevant Teams Coordinator:
1st Team and Vets: Simon Street
2nd & 3rd Teams: Paul Ireland
4th Team: Duncan Nightingale
Support for home matches is more than welcome – you can see 1st or 2nd team matches every Tuesday and 3rd or 4th team matches every Thursday. Veterans matches are played every other Monday throughout the Winter.
See the Links box for a list of all home fixtures.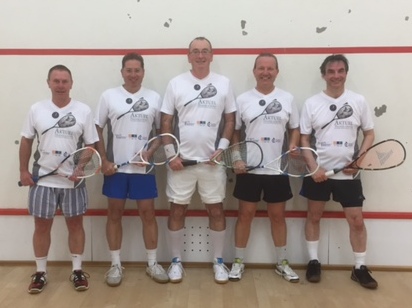 LINKS FOR WINTER2 2017-18