February 2017
Jill retains National Title!
Jill Campion, who lives in Bix and is a member of Henley Squash Club, retained her British Over 55 national squash title, coming back from 2 games to 0 down to win 3-2. This the third year in a row that Jill has won the women's Over 55 category, the first time anyone has won this category three years in succession.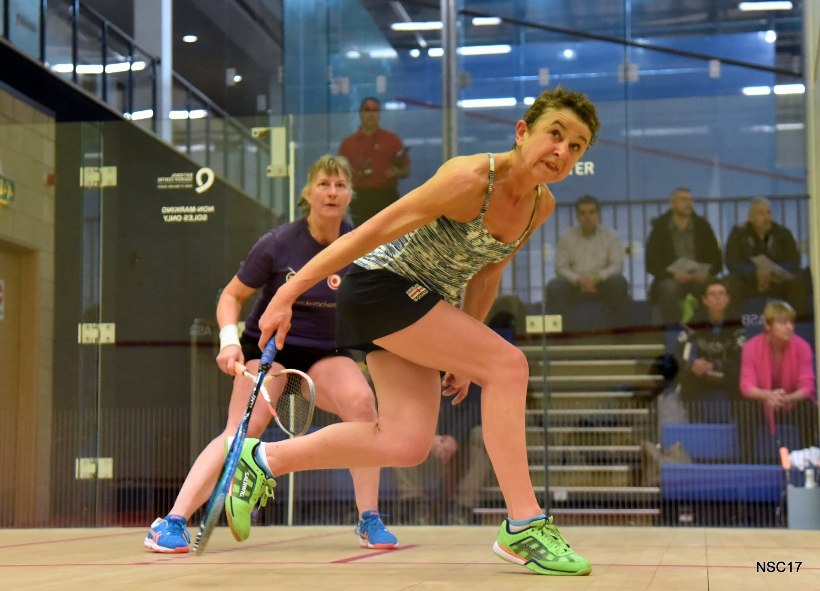 "This year was really tough and I had to fight hard in each match" said Jill. "The quarter final against Kim Johnson, a newcomer in this age group, was fast-paced and physically testing. Although I won 3-0, the games were close, and I was pleased to get ahead at the right time.
"My semi-final was against Sarah Howlett from Cambridgeshire. I knew I would have to rethink my game when I quickly found myself 1-0 down, with Sarah keeping the rallies short with excellent winning volleys and pin-point accurate drop shot. Luckily I found my range in the second game and managed to keep Sarah at the back of the court with high lobs, setting me up to win points at the front. Having won the second game, I maintained this tactic and gradually gained confidence, winning the match 3-1. It was a hugely tactical match – less physical than my first match but mentally more difficult.
"Lesley Sturgess beat reigning Over 55s World Champion Karen Hume in the other semi-final. I last played Lesley in the the final of the British Open Over 55 last June. Then I quickly lost the first two games and managed to stage a comeback, winning 3-2. This time I was determined to get ahead quickly. However, things didn't go according to plan. The first game was anyone's. But Lesley was clearly getting into her stride with excellent volleys and perfect lengths, putting me under pressure and she took the first game. I was struggling to work out how to counter this and quickly lost the second. 2-0 down, clearly there was no margin for error. I started putting a lot more height on the ball, preventing Lesley from attacking it and won the crucial third game and then the fourth. I had managed to turn the tables – Lesley was feeling the pressure and her shots were becoming less accurate, which allowed me to win the fifth game and the match. I am absolutely thrilled, as to be honest, at 2-0 down I thought I was going to lose!"