August 2015
Jill is European Champion!
Henley Squash Club's Jill Campion won the women's over 55 category of the European Masters Squash Championship, held in Malmo, Sweden, 27th-30th August. After a 3-0 win in the semi-finals against experienced Welsh international Sian Johnson, Jill faced title-holder Julie Field from Yorkshire.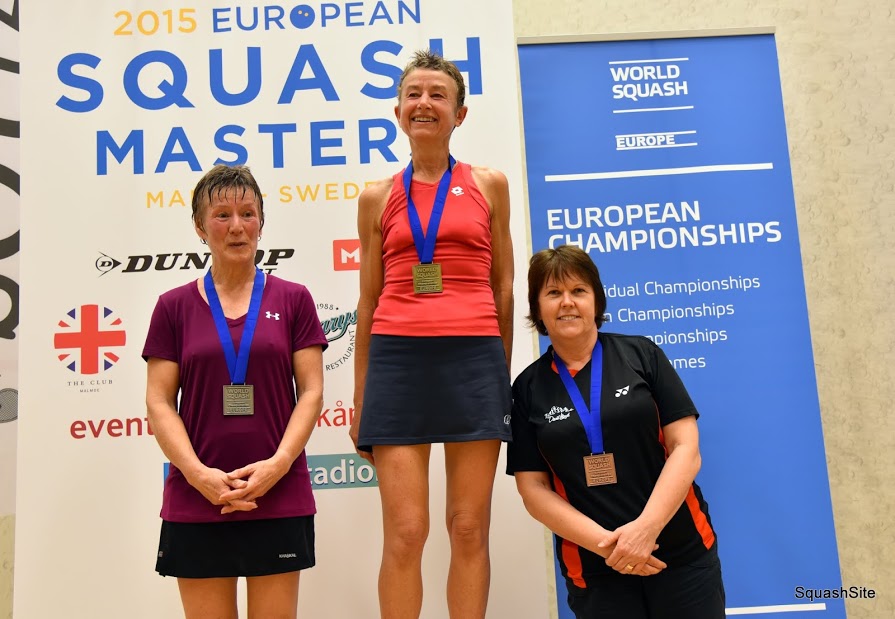 "The first game was tough" said Jill, "but I was playing well, I was in control, I was playing to the ball, I felt good. But in the second, her lob serve was superb, and I just couldn't take the game away from her, although I had my chances. Third, I just couldn't step up to the mark, she did everything superbly, I just couldn't prevent her from playing her game.
"So I changed tactic for the 4th, I tried and attacked everything, crosscourting everything very hard. In the last game, I really focused on the width, again trying to push her to the back, and I managed to control my movement better. Then I had two match balls, I lost one, she won one, then she tinned. At 10/10, I told myself, come on, you have two serves, you are going to do this. And I did!
"It's only the second time I have beaten Julie in the 15 years I've been playing against her, the first win being the final of the over 55s British National Masters in Manchester in February. Julie is famous for her lob serves, her length, her crosscourt volleys! She has won three World titles, six British National titles and three British Open titles at Masters level. She exudes that confidence that comes from having won pretty much everything there is to win."
This makes it three in a row for Jill this year. As well has now being European Masters Champion, she is also women over 55s British Open and British Closed Masters Champion.
Another story about Jill here…